The World's Most Efficient Fully Integrated Online Secondary Marketplace for Sportsbooks
BetSwap provides benefits for both buyers and sellers and the sportsbook itself. Buyers can actively search for and purchase odds that are no longer available, not just passively accept current odds offered by the sportsbook. Sellers can lock in guaranteed profits as they see fit before the expiration of their bet slip, in addition to relying on the cash-out feature.
Sportsbooks are able to offer a new and innovative platform to their users while using the BetSwap marketplace as an advertising tool and additional source of revenue.
How It Works
Simple Steps to Making Better Betting Decisions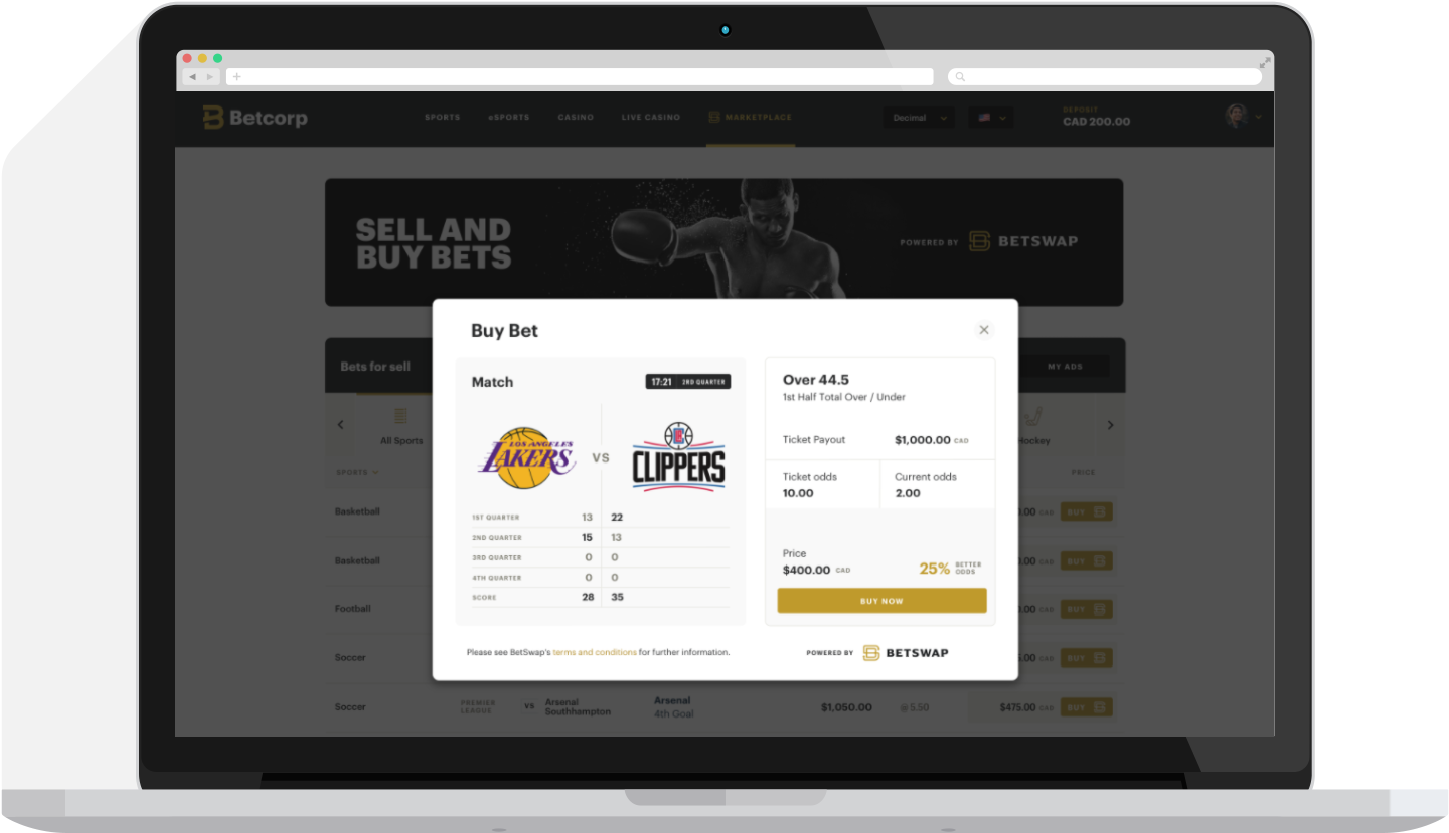 Choose a Bet to Buy or Sell.
With a click of a button, choose whether to sell or buy a bet. Using BetSwap allows Sellers to control how much they sell their bet for. Buyers can browse the marketplace to find bets with odds that are no longer offered by the sportsbook and purchase those bets.
Review the Price Analysis.
Using BetSwap's advanced price prediction algorithm we suggest the perfect price for Sellers to sell a bet at to ensure that value is maximized and the sale is quick. As well, BetSwap will display the better odds analysis to ensure the Buyer understands the benefit they are receiving in purchasing each bet.
Complete The Deal.
Once a listed bet is sold, the bet will be transferred from the Seller's "Open Bets" slip to the Buyer's "Open Bets" slip. The Seller's cash balance will increase by the bet sale price and the Buyer's cash balance will decrease by the bet purchase price. A bet can be resold an infinite amount of times up until the underlying event(s) of the bet is determined.
Features
Our Features and Ideas Are What Set Us Apart
Utilizing the BetSwap features, sportsbooks will be able to allow users to take control of their bets, selling at the price they feel is fair, and purchasing tickets with odds no longer offered by the sportsbook. Sportsbooks will be able to generate a secondary revenue stream which works in compliment with all of their other features, while creating the opportunity for a social network that is currently missing from traditional online sports betting.
Modernized Marketing Campaigns
Alternative Betting Experience
Contact Us
Please Let Us Know How We Can Help You